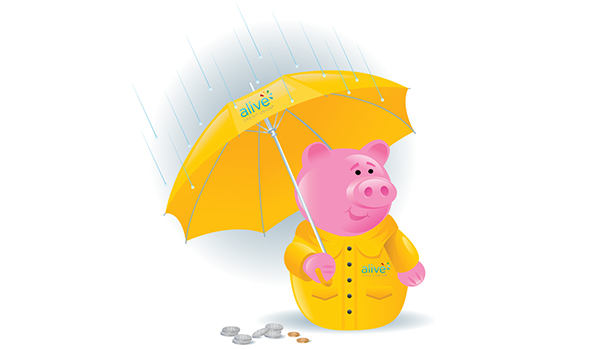 Here are five ways to boost your emergency fund and change savings habits for life
By: Alive Credit Union
Published: 05/07/2020
Treat savings as a bill. Figure out what you can afford to save each month and stash away $75, $50, $25, or even $10 a month. No matter the amount, it adds up and can become habit-forming. As your financial situation improves, increase the amount.
Live one raise behind. When you get a raise, don't begin spending more. Instead, apply the extra amount to your emergency fund.
Automate it. Set up an automatic transfer to your Alive Credit Union Rainy Day Savings Club Account. When the credit union receives your direct-deposited pay check, you can have a portion of it put directly into your savings or emergency account. Out of sight, out of mind, but you know it's there if you really need it.
Give savings a garage-sale boost. Go from room to room in your home and purge stuff you no longer want and need. There are many apps out there that make it safe in today's world of social distancing, such as OfferUp, LetGo, and even on social media like on the Facebook Marketplace.
Think of it as a life jacket. If you can't find that initial spark to get started, ask yourself how you'd pay your bills if you lost your job tomorrow. Having an emergency fund will help you keep "your head above water."
Back to Blog