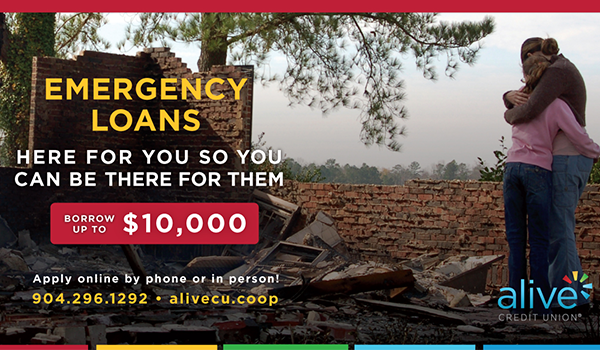 Hurricane Relief Services
By: Alive Credit Union
Published: 09/03/2019
Alive Credit Union is here for you so you can be there for them. If you or a loved one was impacted by Hurricane Dorian, the following special services are available to help you through this time of recovery.
Emergency Loan – Special loan for hurricane relief only. Borrow up to $10,000 as low as 6.99%APR*
Emergency Relief Payment Extension – Request an up to 60-day payment extension on your current Alive CU loan
Medical Loans – Can also be used for veterinary care and the APR* is 1% lower than our personal loan rate
Vehicle damaged/totaled? – If your vehicle was damaged or totaled due to Hurricane Dorian, our CarGuys are here to help get you back in the driver's seat as soon as possible. Please call during regular business hours at 904-296-1292 opt. 4
Other solutions may be available on a case-by-case basis. Please call our Member Services Team during regular business hours at 904-296-1292 opt. 3
APR = Annual Percentage Rate. The services listed above are only available to members directly impacted by Hurricane Dorian and end on September 30, 2019.
Loans must be open and current to be considered for a payment extension. Member may only skip two payments during the life of the loan.
Emergency Loans: Rate based on creditworthiness and other factors. See credit union for your qualifying rate. Existing members receive lowest rate. Rate subject to change at any time. Payment example: $10,000 at 6.99% APR = $197.96 per month for 60 months.
Back to Blog